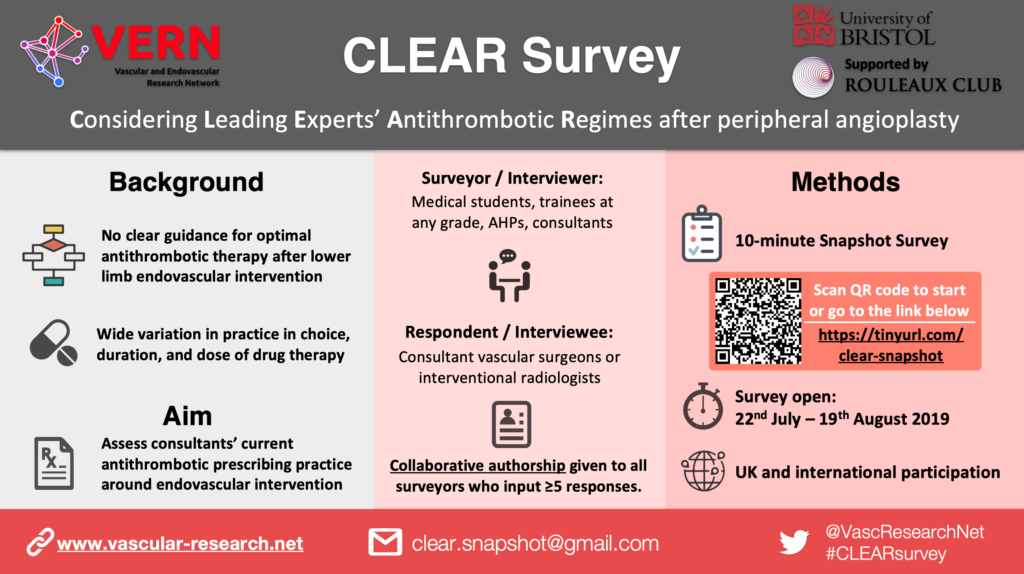 This study is now completed and the full publication can be read here:
https://cvirendovasc.springeropen.com/articles/10.1186/s42155-019-0079-8
We would like to extend our thanks to all collaborators who participated in this work.
Background
Antiplatelet and anticoagulant therapy are commonly used before, during and after peripheral arterial endovascular intervention. This survey aimed to establish antiplatelet and anticoagulant choice for peripheral arterial endovascular intervention in contemporary clinical practice.
Methods
Pilot-tested questionnaire distributed via collaborative research networks.
Results
One hundred and sixty-two complete responses were collected from responders in 22 countries, predominantly the UK (48%) and the rest of the European Union (44%). Antiplatelet monotherapy was the most common choice pre-procedurally (62%). In the UK, there was no difference between dual and single antiplatelet therapy use post procedure (50% vs. 37% p = 0.107). However, a significant majority of EU respondents used dual therapy (68% vs. 20% p < 0.001). There was variation in choice of antiplatelet therapy by the device used and the anatomical location of the intervention artery. The majority (82%) of respondents believed there was insufficient evidence to guide antithrombotic therapy after peripheral endovascular intervention and most (92%) would support a randomised trial.
Conclusions
There is widespread variation in the use of antiplatelet therapy, especially post peripheral arterial endovascular intervention. Clinicians would support the development of a randomised trial comparing dual antiplatelet therapy with monotherapy.