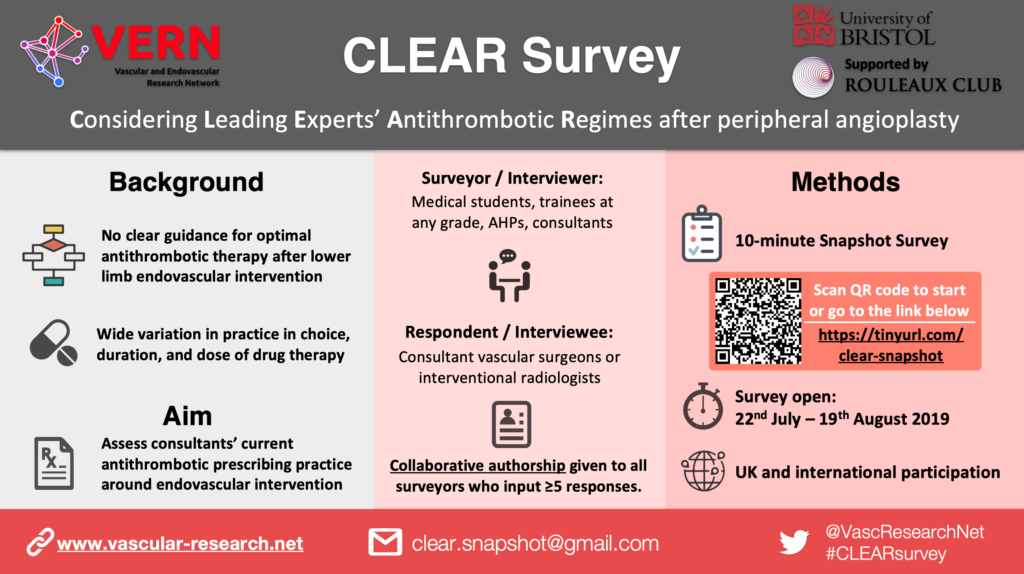 Background:
Currently, no robust data exists to support the routine practice of antiplatelet therapy following endovascular intervention. With no clear guidelines, a wide variation in practice exists with regards to the choice, duration, and dose of drug therapy
Aims:
This study aims to survey what antiplatelet and anticoagulant regimens clinicans are currently prescribing following percutaneous endovascular intervention in the lower limb
Methodology:
A survey will be distributed via VERN as an online form from mid July until mid August. Surveyors (any grade in training) will be expected to collect responses from consultant vascular surgeons or consultant interventional radiologists with regards to their antiplatelet and anticoagulation prescribing practice around percutaneous endovascular intervention in the lower limb.

Any surveyor collecting and inputting 5 responses will automatically qualify for authorship on any subsequent publications

This survey is open to any hospital in the UK and Ireland that provides percutaneous endovascular interventions in the lower limb. International centres are also invited to participate
RECRUITMENT FOR THIS STUDY HAS NOW CLOSED. Thanks to all those who participated in this work.
For more information and to sign up; please contact
vern.arterial.disease@gmail.com and kitty.wong.2015@bristol.ac.uk
The full protocol can be viewed here: