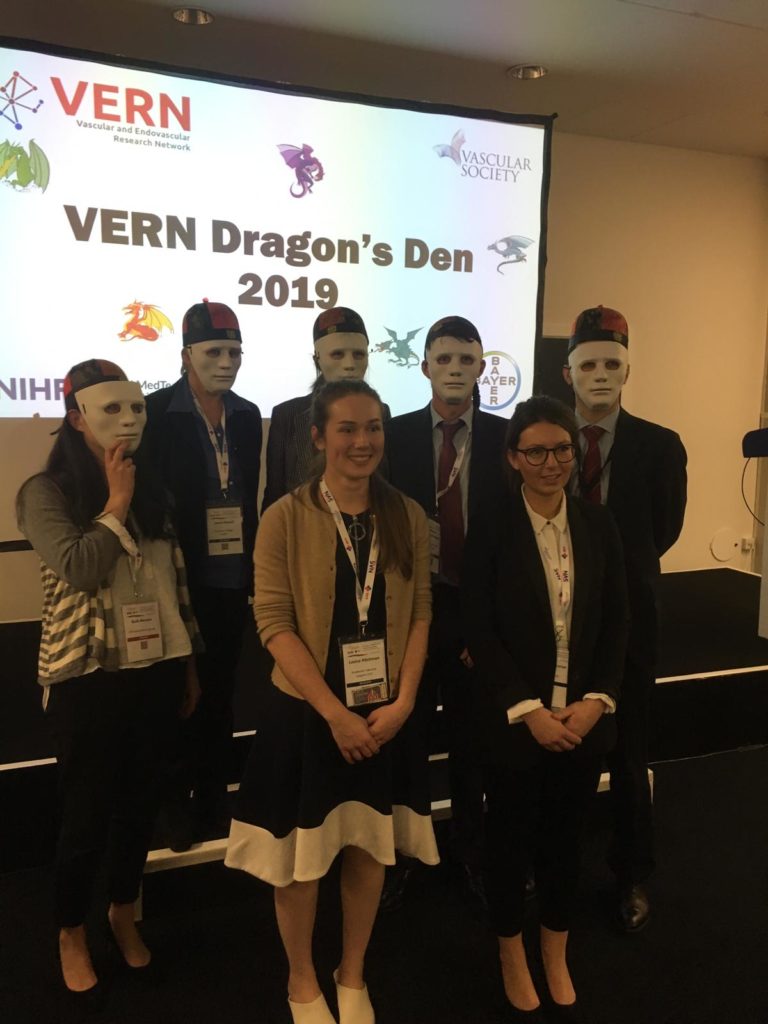 Dragons' Den 2019 Manchester VSASM meeting
This event was a great success with six high-quality presentations providing exciting competition for the two prizes available. Ultimately, the prize winners were:
NIHR MedTech Prize £3000: Rachel Falconer (Developing 3-D printed hydrogel models for a national programme of home-based vascular simulation training)
Bayer Prize £3000: Louise Hitchman (Frailty Assessment in UK Vascular Centres (FAVE); a survey to investigate data collection methods and impact on clinical practice)
We would like to extend our thanks to our panel of feisty dragons (Janet Powell, Colin Bicknell, Janice Tsui & Robert Hinchliffe). We also want to thank all audience and competitors for their participation.
Previous VERN Dragons' Den sessions
VERN has hosted an annual Dragons' Den session at the Vascular Society Annual Scientific Meeting since 2016. The sessions involve presentations of research proposals to a live audience and a panel of expert 'dragons'. Live voting decides the winning research proposal, which receives VERN support alongside a prize funded by various stakeholders.
A total of £17,000 has been awarded so far through this process to kick start vascular research across the UK.
The winners of the most recent 2018 Dragons' Den (Glasgow VSGBI meeting) were:
–  Mr George Dovell (Bristol) who will develop a core outcome set for diabetic foot disease.
–  Mr Owain Fisher (Coventry & Warwickshire) who will investigate the role of purine nucleosides in lower limb ischaemia.
Each prize was £3,000 (a general vascular research prize supported by AMGEN Inc. & a medical technology prize supported by the NIHR Surgical MedTech Co-operative)